Firewise Award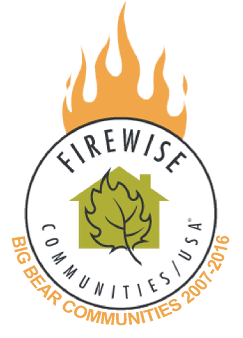 We are proud to announce that the communities of the Big Bear Valley have earned the Firewise Communities/USA® recognition from the National Firewise Communities Program, due to efforts in reducing the vulnerability of homes and landscapes to wildfire. 
The communities of the Big Bear Valley worked with Federal, State and Local Agencies to complete a Community Wildfire Protection Plan which addresses wildfire safety concerns within the Big Bear Valley from a "Systems Approach". The communities of the Big Bear Valley created a local Firewise team. Utilizing private citizen involvement and various other organizations, the team developed a mass media campaign to implement the valley-wide Neighborhood Chipping Program. The campaign included distributing wildfire awareness brochures, radio ads, television infomercials and the launch of a new website: www.thinisin.org. In addition, numerous community meetings were held over the course of  time to educate citizens on wildfire awareness.  In 2010, more than 4200 requests for chipping were conducted and over 2 million pounds of vegetation were removed from properties in the Neighborhood Chipping Program throughout the valley. The Firewise Communities/USA designation is a remarkable achievement that demonstrates the significance of public involvement. Without participation from the public, the communities of the Big Bear Valley would not have received such an award. 
Firewise Communities/USA is a nationwide initiative that recognizes communities for taking action to protect people and properties from the risk of fire in the wildland/urban interface. This program is of special interest to small communities and neighborhood associations that are willing to mitigate against wildfire by adopting and implementing programs tailored to their needs. The communities create the programs themselves with cooperative assistance from state forestry agencies and local fire department staff and fire safe councils.
Fire-prone communities can work with local professionals to earn Firewise Communities/USA status by meeting the following criteria:
Enlist a wildland/urban interface specialist to complete a community assessment and create a plan that identifies agreed-upon achievable solutions to be implemented by the community.
Sponsor a local Firewise Task Force Committee, Commission or Department, which maintains the Firewise Communities/USA program and tracks its progress or status.
Observe a Firewise Communities/USA Day annually, dedicated to a local Firewise project.
Invest a minimum of $2.00 per capita annually in local Firewise projects. (Work by municipal employees or volunteers using municipal and other equipment can be included, as can state/federal grants dedicated to that purpose.)
Submit an annual report to Firewise Communities/USA that documents continuing compliance with the program.
Firewise Communities/USA is a part of the National Firewise Communities Program, an interagency program designed to encourage local solutions for wildfire safety by involving homeowners, community leaders, planners, developers, firefighters, and others in the effort to protect people and property from the risk of wildfire. For more information, visit http://www.firewise.org/
Fire Chief Jeff Willis
Big Bear Fire Department