Replacing Wood Shake/Shingle Roofs
---
City of Big Bear Lake Ordinance #2008-383 mandates the replacement of all Wood Shake/Shingle Roofs by September 1, 2012. | Download the ordinance
County of San Bernardino Ordinance #4225 mandates the replacement of all Wood Shake/Shingle Roofs in the County by July 1, 2016. | Download the ordinance
---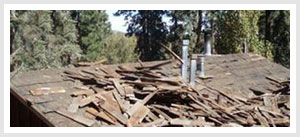 Replace ignitable roofing with Class A non-organic fire-resistant materials.  Participate in a cost/share reimbursement program.
Fire protection can involve a variety of changes to your house and property -- changes that can vary in complexity and cost. You may be able to make some changes yourself. But, complicated or large-scale changes and those that affect the structure of your house or its electrical wiring and plumbing, should be carried out only by a professional contractor licensed to work in your state, county, or city. One example of fire protection is replacing flammable roofing materials with fire-resistant materials. Recent studies have shown that there is a 51% fire risk reduction for homes with Class A non-organic or non combustible roofing material.  This is something that most homeowners would probably hire a contractor to do.
Replace Roofing with Fire-Resistant Materials
Some roofing materials, especially old wood shakes/shingles, are less resistant to fire than others. When wildfires and brush fires spread to houses, it is often because burning branches, leaves, and other debris buoyed by the heated air are carried by the wind and fall on roofs. If the roof of your house is covered with old wood shake/shingles, you need to replace them with fire-resistant materials. In the mountain communities of San Bernardino County, a minimum Class A roofing material is required for all roofs.
You can replace your existing roofing materials with slate, terra cotta (or other types of tile), standing-seam metal roofing, or a Class A asphalt shingle roofing material. Replacing roofing materials is difficult and dangerous work. Unless you are skilled in roofing and have all the necessary tools and equipment, you will probably want to hire a roofing contractor to do the work. Also, a roofing contractor can advise you on the relative advantages and disadvantages of various fire-resistant roofing materials.
Estimated Cost
If you hire a contractor to replace your existing roof covering, you can expect to pay between $3.50 to $5.00 per square foot for asphalt shingle roofs. For example, a house measuring 60 feet by 30 feet will have about 1,800 square feet of roof area. So for this house, a Class A asphalt shingle roof would cost approximately  $6,300.00 to $9,000.00.  Prices vary depending upon the slope of the roof, roofing material, access, roof angle, the square footage of the roof, etc.  Contact your local roofing contractor for specific information on your roof.
Other Sources of Information
"Five Hot Tips for Homeowners on the Edge," by Herbert McLean, in American Forest, vol. 99, no. 5-6, 1993
Guide to Landscaping for Fire Safety, 2nd. Ed., University of California, 1992
"Firescaping: Ways To Keep Your House and Garden from Going up in Smoke," by Joan Boulton in Horticulture, The Magazine of American Gardening, vol. 69, no. 8, 1991
Protecting Residences from Wildfires: A Guide for Homeowners, Lawmakers, and Planners, Technical Report No. 50, U.S. Department of Agriculture, 1981